Hearing John Oakley talk Wednesday about the great Northeast Blackout of 1965 reminded me of this TV Guide article that answered a question I was curious about: what, exactly, did American network TV do the night the lights went out across a lot of the continent on Nov. 9th, including right here in Ontario?

The brief debrief below outlines how the newsrooms scrambled to cover a story that only half the country could see, because millions didn't have the power to watch their TVs. It happened exactly 57 years ago tonight.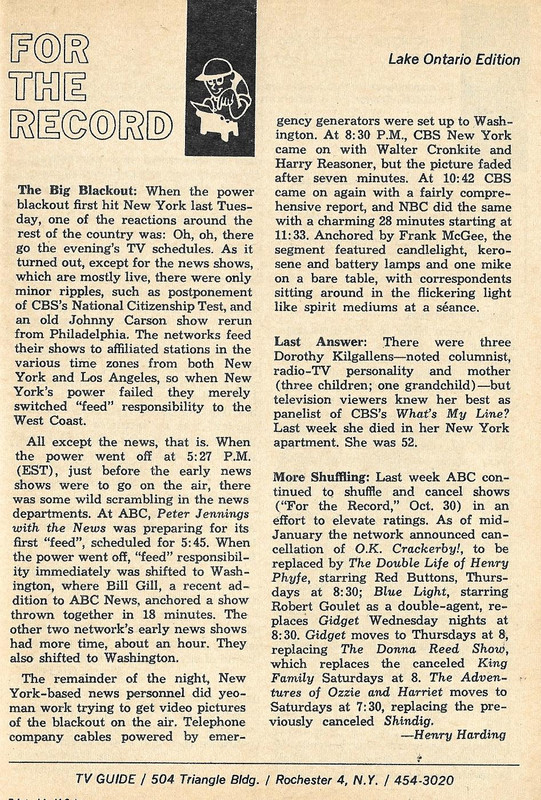 I was very young when it occurred, but it's one of my strongest childhood memories. I remember the lights dimmed briefly once or twice before going out entirely. It was just after 5 PM and we were watching a Laurel & Hardy movie on CFTO. We never got to see how it ended. 

In the gathering gloom, my parents dragged out every flashlight and candle they could find and we turned on a battery-operated transistor radio tuned to CFRB, which was on emergency power, to hear if they could tell us what was going on. It soon became apparent we were all in the same boat - and there were no lights on the vessel!

The blackout caused chaos across the northeast and one of the greatest airchecks came from that fateful night. Dan Ingram was doing the drive home shift on WABC, when all his records and jingles mysteriously started slowing down on air. How he handled it that evening is a testament to what a terrific a jock he was. He would later head to the station's transmitter in New Jersey, which had power, and kept the station on the air, broadcasting late into the eerie November darkness.