It's hard to believe it's been 50 years since two of the most iconic and successful TV shows in history made their debuts, both on CBS. But Wednesday marks exactly half a century since a low key and extremely gentle drama debuted amidst predictions it would die unnoticed in the wake of competition on other channels. 

Somehow, The Waltons survived and became one of those iconic family shows that is still fondly remembered today. (The CW even aired a not-terribly well received one-off remake last year, with original John Boy, Richard Thomas, stepping in to the role of the narrator.)

It was on against Flip Wilson on NBC and the ultra-hip Mod Squad on ABC. Nobody gave this Depression-era set family show a chance. Except the viewers. It became one of the longest running such series in history and it still reverberates to this day. Here's the original look ahead from the Fall Preview issue of TV Guide and the listing from Sept. 14, 1972: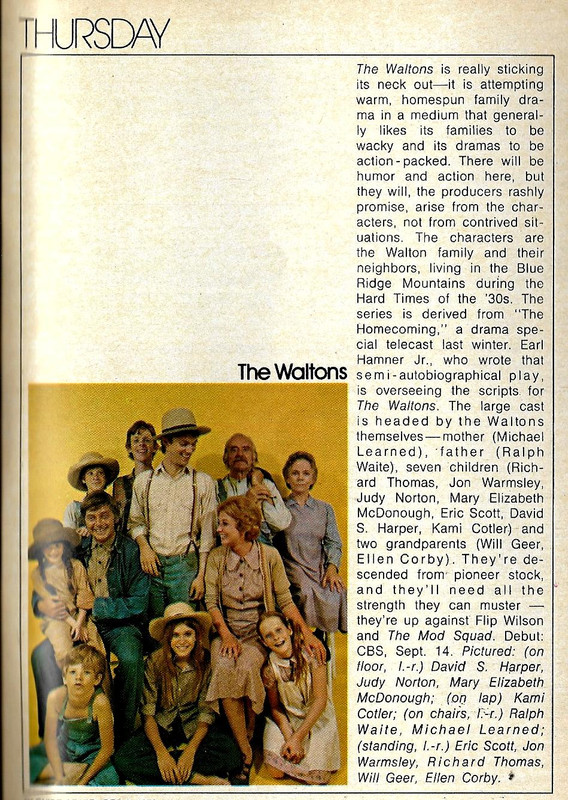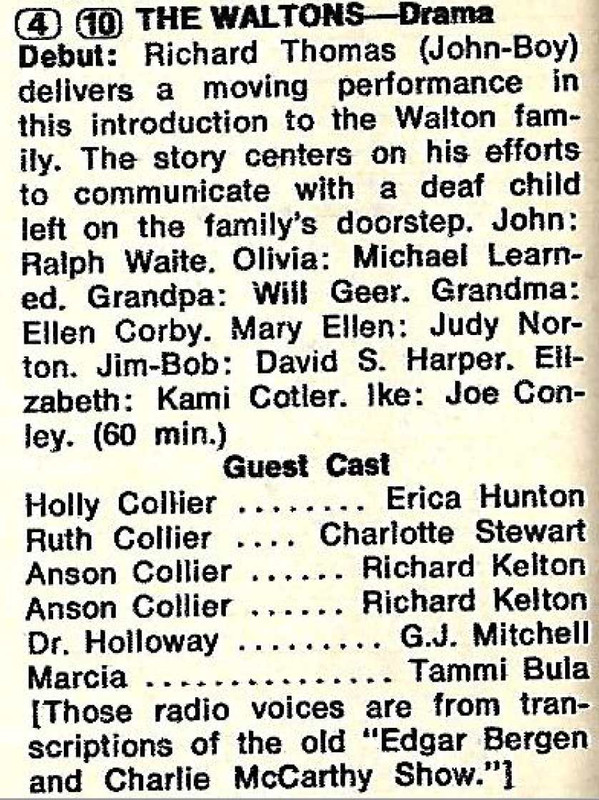 Even the Associated Press took notice of the landmark date:

At 50, TV's 'The Waltons' still stirs fans' love, nostalgia

The other significant show about to hit 50 is one that helped change TV - M*A*S*H was based on the Robert Altman film, and was so far ahead of its time - multiple story lines in the same episode, no laugh track in some scenes, taking on racism, anti-war etc. - that no one quite knew what to do with it. It was ranked 56 out of 65 shows in its first season and was "this close" to cancellation.

It was saved by the wife of William Paley, the network owner's spouse, who liked the show and pleaded with her husband to give it another shot. Once it was moved to Saturday night, airing amongst All In The Family, Mary Tyler Moore and Carol Burnett, it caught on and never really left the Top 10 again. 

It hits its anniversary date on Saturday, Sept. 17th, surviving numerous cast changes and even lasting years longer than the actual Korean War. It made a star out of lead Alan Alda and there has never really been a comedy like it on TV since - at least not one that mixed drama and comedy so successfully. Here's the TV Guide fall preview spotlight, long before anyone knew what it would become.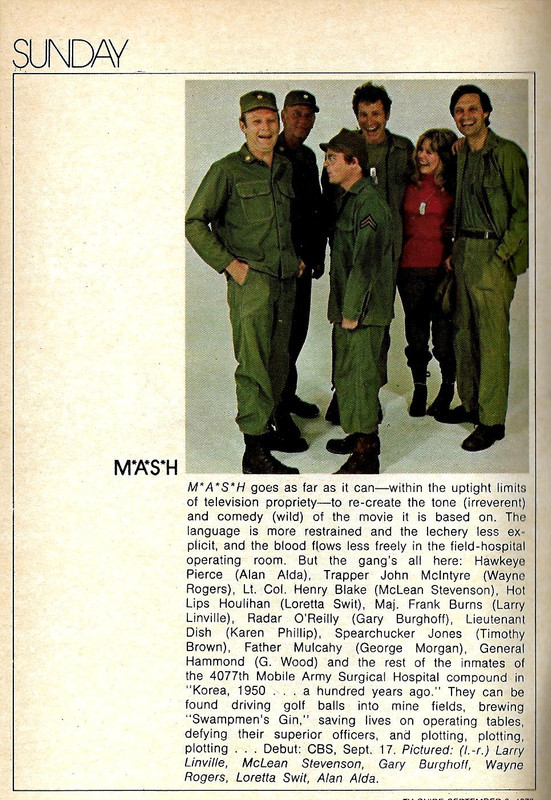 Fast forward to Feb. 28, 1983, and after 11 seasons, the show went out on top with its final episode, "Goodbye, Farewell and Amen," becoming one of the highest rated TV shows ever aired. Originally pitched as a 2-hour finale, the producers told the network they could easily go 2 and a half hours, to which a salivating CBS readily agreed, since they were getting Super Bowl-like ad rates for that epic last show. 

So happy anniversary to two TV classics. Given the state of the industry today, it can easily be predicted we will never see their like again.