splunge wrote:

i also have a question about paid vpns.  they protect the computer or device accessing content, but what about my bell router?  wouldn't that IP still be visible? 
When I asked Nord, they said i had to modify my router so that all devices would be invisible to make their product fully effective.
This is correct.  If you activate VPN on your router, all devices connected to the router will use the VPNs IP address, not your ISPs IP address.  You can verify yourself by activating the router VPN then on your internet session, go to a site like whatismyipaddress.com to show what IP address the internet sees for you.


mace wrote:

I am with Rogers. Not being a tech guy, how does one "modify" their router? One thing I have learned, if I want to use my Sonos box, the VPN must be turned off.
I've got an Asus RT-AC86U router.  Adding a VPN to the router is easy peasy.
Grab the .OVPN file from your VPN vendor.  Upload the .OVPN file into your Router VPN Client and add your VPN ID & password.  You're now good-to-go.  All traffic from any device connected to your router now uses the VPN IP address, not your ISP IP address.

I'm currently using stock Asus RT-AC86U router firmware as it meets my current need.  If you need to get more fancy, like run a single device (by MAC address) thru your WAN (ie. your ISPs IP address) and the rest of the router devices thru the VPNs IP address, you can load Merlin software onto your Asus router (Merlin is an enhanced version of Asus router firmware).   Merlin website is https://www.asuswrt-merlin.net/ .

You can add multiple VPN profiles .. say 1 for Toronto, 1 for New York & 1 for London, England to meet your geo-location needs.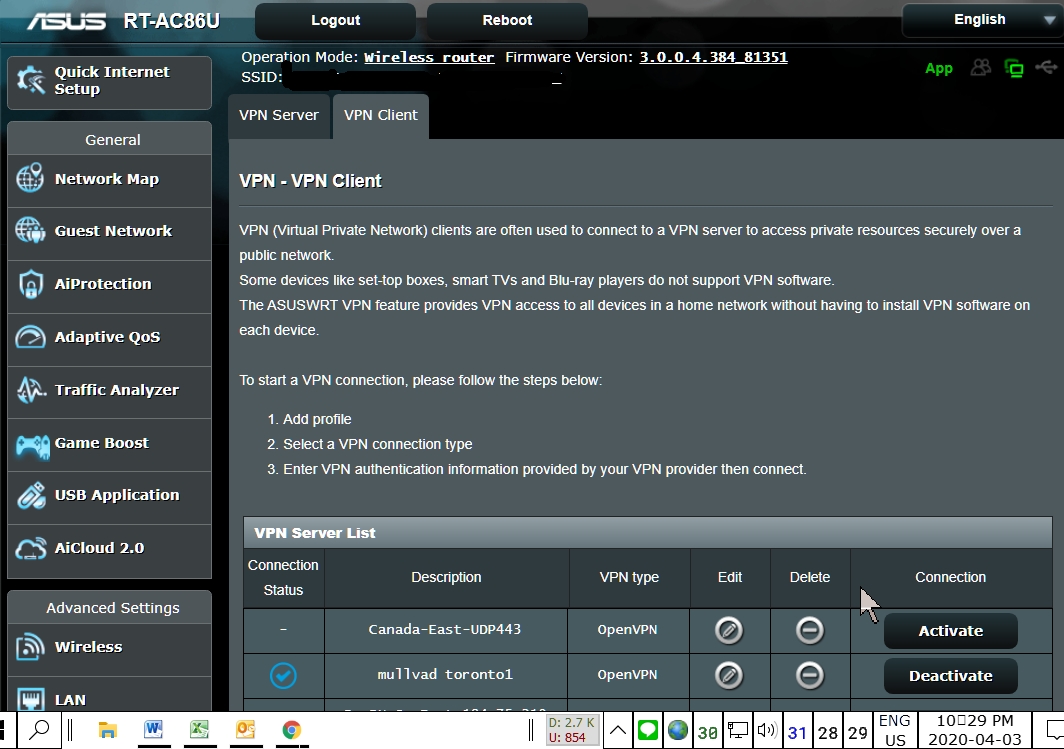 Last edited by g121 (April 3, 2020 9:54 pm)