I feel sad when I talk about my career at CFRA Ottawa because I hurt so many people the way I resigned on air and walked across the street to CFGO.  It was unnecessary.  What was I thinking?  Addicts act impulsively and I was at the height of my addiction then.  It got a lot of publicity everywhere except for a 50 mile radius around Ottawa where radio people thought it was just another "Mark Elliot stunt".  I was well known for generating headlines.

I could have resigned without all the fanfare, but didn't.  CFRA would have changed format regardless and I would have ended up somewhere else. Who knows?
My banker thought I should have owned CFGO the way the ratings shot up when I went there, but like i said before: Junkies don't make good business deals.


There is something in radio called the "Legal I.D."
 
I took a real pride in making the station sound letter-perfect.  "The number one station in the Capital city of the nation! This is CFRA 580 – Ottawa!"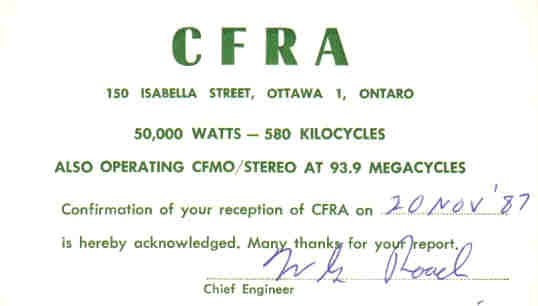 My old boss had made the point..."Make the call letters shine!"
 
I take great pride in my work and CFRA took great pride in giving me everything I needed to make me a success. Nothing was too small if it helped.  CHUM had a "star culture" with its performers.
 
The station itself was mine and everybody else's best friend in Ottawa.  But it was a "love-hate" relationship.
 
Two weeks after I'd arrived my parents came to visit me in Ottawa for the first time and my father was the one who said it.  "I met an old man on Parliament Hill and he asked me why I was in town" he said. "I told him I was visiting my son who got a job on the radio and he knew exactly who I was talking about!"

Dad couldn't believe that somebody his age knew who I was.
 
Everybody did.



 
In Ottawa being on CFRA meant your name was a household word.
 
I'd only just moved to town, but everybody knew who I was.  And I was a hit!
 
My first rating season was a disaster and I lost half my audience, but I was still number one.
 
George Davies was the programming consultant working for CHUM and listening, then writing reports about what the station was doing wrong.  George never really complimented you if you were doing the right thing.  His job was to critique.
 
I never met the man, but I heard a lot about him.
 
Davies report about my debut on CFRA was peppered with adjectives like "adolescent", "pre-pubescent", "amateurish" and "infantile".  I needed a lot of work – Fast!
 
My boss, Al Pascal knew what to do and put me in line.  He came up with an arrangement that lasted all the years I worked with him: If the ratings went down I'd do things his way.  Likewise, if the ratings went up we'd do it my way.
 
For now I was to go back to basics: Call letters - Time, temperature, and weather - "That was...", "This is..." and my name.  Other things would be added as they appeared.  Al was patient but he was a production craftsman.  It had to be done right.
 
He was also looking for my strengths and found what he was looking for in the passion that I had for music.
 
Some radio people are comedians, others are know it all's.
 
Some have the gift of story-telling or news delivery.  I had a passion for music and musicians and that was the strength that Al cultivated with everything at his disposal.
 
Next rating I was back where I should have been, and things were going to take off from here...
 
https://soundcloud.com/markelliot77/cfra-1977

Last edited by Mark Elliot (September 29, 2015 7:20 pm)